Heafner Health's 3 step process
WE MAKE PEOPLE STRONG WITHOUT SURGERY OR MEDICATION
---
---
What We Specialize In
Low Back Pain
Neck Pain
Shoulder Pain
Elbow Pain
​Wrist/Hand Pain

Hip Pain
Knee Pain
​Foot and Ankle Pain
Movement Problems
Weakness/Incoordination

Balance Problems
Osteoarthritis
​Fibromyalgia
Headaches/Dizziness
​Fractures
---
---
From Our Patients
This past year I finally accepted that I may not be able to run anymore because of an injury to my low back that seemed to get worse and worse as time went on despite getting massages, seeing the chiropractor, stretching, and many other attempts to improve pain. After seeing Jim for about 4 sessions and completing my homework I can now say I will be running for many more years. I reached my goal of being able to run pain free for 45 minutes and have a renewed love for running. Jim practices with genuine caring and concern. I always get the sense that he is really trying to figure out what I am uniquely experiencing in my body rather than just giving out standard exercises for textbook complaints. When I struggled with completing homework, he was supportive and encouraging. I recommend Heafner Health to anyone looking for a personalized approach to physical therapy.

​ -Bethany R


​

"I was referred to Jim by a friend, after I injured my hip training for my first triathlon. On my first visit Jim was able to identify the issue and began helping me fix and heal my injury in a timely fashion. I was almost pain free after just a few visits and I was able to compete in my triathlon completely pain free. He truly cares about healing his patient and making sure they return to there full activities as fast and safely as possible. I couldn't be more grateful to him for helping me."

-Brandy G

"I found Jim after years of chronic pain and accepting my limited range of motion. Where other PTs were quick to dismiss or try to fit me in a box, Jim took the time to understand my injuries, longterm goals, and created a plan to help me achieve them. His method combines deep muscle work to enhance mobility and intelligent (and realistic) exercises to fire up and safely strengthen muscles. I have experienced lasting relief after years of reduced quality of life. I highly recommend Heafner Health."

-M.J.



---
Recent Blog Posts
Powered by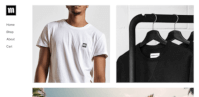 Create your own unique website with customizable templates.